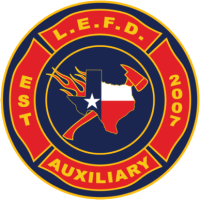 About the Little Elm Fire Department Auxiliary
The Little Elm Fire Department Auxiliary was formed in 2007 to provide support to first responders in and around Little Elm and connect first responders to our communities through programs like Santa Around Town. As a 501(c)(3)-recognized organization, LEFDA also worked to educate citizens on fire safety and worked to enhance and promote public awareness of the fire department.
Starting in 2021, we partnered with LEFDA to support their Annual Golf Tournament, a highly popular fundraiser which helps raise funds for their "injury and/or loss of live while on duty" assistance program. By combining our resources, we were able to run the tournament more effectively and efficiently. We continued this partnership in 2022.
Given the success of our partnership, LEFDA approached us with the news that they were looking to wind down operations, but wanted to ensure their programs like the Annual Golf Tournament, Santa Around Town, and the support fund carried on. We are honored to be selected to take on these programs from LEFDA as we greatly value the support they provide to our area first responders. Combining LEFDA's programs with our rehabilitation, safety and assistance programs for our area first responders means these efforts will be able to have even greater impact than if these programs had continued forward separately.
LEFDA is currently in the process of dissolution.